10D7N Discover Bosnia (Flights Included ) ⚠ Minimum 2 adult(s) per departure
10D7N Discover Bosnia (Flights Included )
⚠ Minimum 2 adult(s) per departure
From: $5243 From: €4992 From: £4285 From: RM22795 From: CAD6793 From: SGD7272 From: AUD7568 From: HKD41305
Sedunia Travel
Explore the world with our specially curated travel programs and arrangements. Sedunia Travel specializes in fully personalized travel arrangements to suit each traveling style whether it is Traveling in Group with Like-Minded People with Exclusive Private Arrangements or even Independent Adventures for those wanting to head off the beaten path and explore. Choose from one of our tried and tested classic itineraries or reach out to us to put together a fully tailor-made experience.
Cities to Visit: Sarajevo-Mostar-Konjic-Blagaj-Pocitelj-Hutovo Blato-Kravice Waterfalls-Bihac-Una National Park-Jajce-Travnik-VreloBosne

Language: English
Tour Deal
Tour Features
~ Fixed departure dates with flights included :
10/06 , 16/06, 07/07, 18/07, 22/07, 16/08, 10/09, 18/11,02/12 2023
~ Minimum 2 to go with Private arrangement
~ First class hotel throughout the tour
~ Ground arrangement can be arrange under daily departure
~ Black out dates : 15 Dec - 31 Dec 2023

*Terms & Conditions Apply
---
Travel Period:
from
April 1, 2023
till
December 31, 2023
---
Day 1: Depart Kuala Lumpur KLIA to Sarajevo

Check in independently at KLIA and board your flight to Sarajevo International Airport ( SJJ )


Day 2: Arrive Sarajevo

Arrival to Sarajevo Airport. Private transfer to Sarajevo and accommodation at selected hotel in Sarajevo. Free at own leisure after hotel check in.


Day 3: KONJIC – BLAGAJ – MOSTAR

Our first stop of the day is small town of Konjic, the site of crossroads for different cultures, traditions and religions. Walk through the old town, as well as the city center, which provides you with amazing sceneries of the surrounding countryside. Continue to Blagaj, a small town, nominated for UNESCO World Heritage list, well known for its location at a spring of Buna river and mystical Dervish Monastery. Last destination of the day is Mostar – a city of »stone on stone«. Mostar is the city of contrasts, wide roads, narrow streets, the traditional old bazaar and a contemporary center and visit to the Old Bridge (Stari Most), listed on UNESCO World Heritage list. Overnight in Mostar


: Breakfast




Day 4: POČITELJ – HUTOVO BLATO – KRAVICE WATERFALLS

Today we discover Hercegovina, Medieval fortress village of Počitelj was built on a rocky cliff sloping steeply down to the bank of the river Neretva. Walk through the old bazaar and admire city's historical buildings.Next stop is Hutovo Blato Nature Park and bird reserve, a unique sub-Mediterranean swamp with plenty of water, home for hundreds of plant and animal species. Enjoy a private boat ride and admire this unique environment. continue to Kravice Waterfalls*. Return to Mostar for overnight.


: Breakfast




Day 5: MOSTAR – BIHAĆ

Today we journey across the country, from Mostar to Bihać, located in the north-western part of Bosnia and Hercegovina. Upon arrival, orientational Bihać sightseeing and accommodation at selected hotel. Balance of the day at leisure and overnight


: Breakfast




Day 6: UNA NATIONAL PARK

Drive along the Una river valley and discover Una National Park, where the diversity of flora and fauna are present alongside of 15 fortresses. Before entering its first major canyon, river Una gushes down the beautiful Strbacki buk, a 24m high and 40 m long waterfall, one of National Park's greatest attractions. Free time to walk around the park and admire the serene nature. Return to Bihać for overnight


: Breakfast




Day 7: JAJCE – TRAVNIK

Today on our way back to Sarajevo, we visit royal town of Jajce, a town known as town made of stone, light and water.We will walk up to the castle to learn about the town's history, then follow the walls and fortified gates until we reach Jajce's most famous landmark, a 17m high waterfall, located just below the old town. We continue our journey to Travnik, an old trading town and military strongpoint during the Ottoman rule. We will visit the Old Fortress, offering a breath taking view over the town. Before returning to Sarajevo, we'll make a stop at Blue Water springs.


: Breakfast




Day 8: SARAJEVO & VRELO BOSNE

Breakfast at hotel. Sarajevo sightseeing with local guide. Start with Bascarsija square itself, famous fountain called Sebilj and a whole story behind. Later we move on towards Kazandziluk street (Coppersmith's street), burned library - Vijecnica, and thorough explanation regarding the two distanced fortresses, Yellow and White bastion. Visit the Seher-Cehaja and Latin bridge, continue walking and see Imperial mosque, Gazi Husref Bey's mosque, Clock tower and few other spots around.We drive to Vrelo Bosne. The spring of this river is certainly one of the most famous scenes of natural beauty in the region. Overnight in Sarajevo


: Breakfast




Day 9: Depart Sarajevo

Free time until departure. Transfer to Sarajevo Airport. END OF SERVICES.


: Breakfast




Day 10: Arrive Kuala Lumpur KLIA



Whats Included
~7 nights hotel accommodations
~Daily breakfast
~Private transfer Sarajevo Airport – Sarajevo hotel
~Private throughout driver/guide from DAY2 till DAY7
~Private transfer Sarajevo hotel – Sarajevo Airport
~Entrance fee to Dervish Tekke in Blagaj
~Entrance fee to Hutovo Blato Narture Park & 45 min boat ride
~Entrance fee to Kravice Waterfalls
~Entrance fee to Una Nature Park
~Entrance fee to Jajce Waterfalls
~Travnik Old town
~International flights ticket economy class



Whats Excluded
~Travel Insurance
~Meals which is not stated in the itinerary
~Tipping to Tour Guide & driver estimated (EUR5/person/day)
~Any additional entrance fees that are not included in the itinerary
~Others not mentioned in the itinerary
Where to Visits
For privacy reasons Google Maps needs your permission to be loaded.
I Accept
| Departure: 2023 | 2 To Go (MYR) p.p | 4 To Go (MYR) p.p | 6 To Go (MYR) p.p | Single Supplement ADD (MYR) |
| --- | --- | --- | --- | --- |
| April - June | RM23820 | RM17600 | RM14855 | RM1400 |
| July - August | RM23115 | RM18535 | RM16340 | RM1525 |
| September - October | RM24000 | RM17935 | RM15915 | RM1435 |
| November - December | RM22795 | RM17180 | RM14780 | RM1230 |
Information
★★★★☆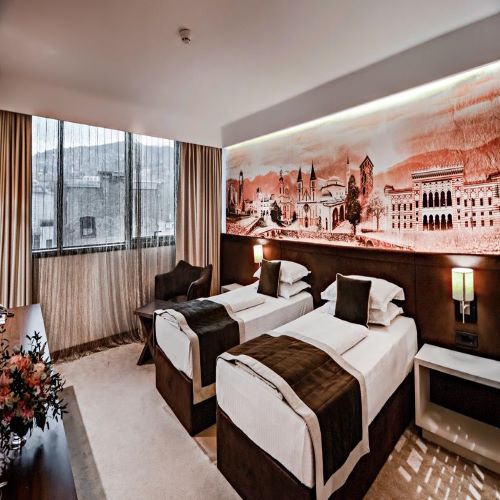 Bazardžani 1, Sarajevo 71000, Bosnia & Herzegovina
Hotel President is located in the heart of Old Town of Sarajevo city. All significant touristic attractions such as Bey's and Tzar's mosque, City Hall, Latin Bridge, Sebilj Fountain, Cathedral, Orthodox Church and Jewish Temple are within just a few minutes of walk.Well connected public transport allows guests to explore all parts of the city. Hotel is located 10 km away from Sarajevo Airport and just 30 minutes of drive from Olympic mountains Bjelašnica, Jahorina and Igman. Trebević mountain is just 10 min of drive from the hotel.For all our business guests, administrative part of the city is also in a walking distance from the hotel.
★★★★☆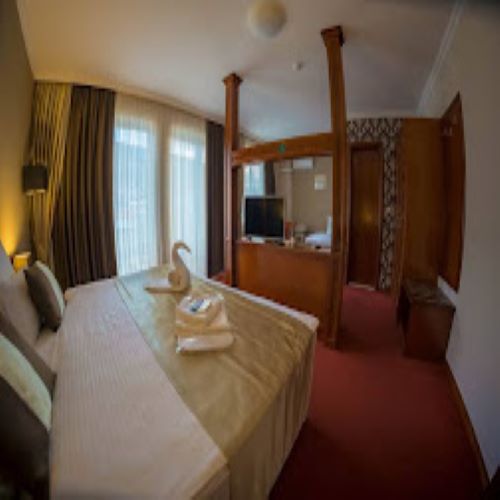 Mostarskog bataljona bb, Mostar 88000, Bosnia & Herzegovina
Overlooking Neretva River, this relaxed hotel is a 7-minute walk from the grand Karagöz Bey Mosque, a 10-minute walk from the Muslibegović House museum and a 13-minute walk from the restored Stari Most bridge.Warmly decorated rooms offer free Wi-Fi, sitting areas and floor-to-ceiling windows, as well as cable TV and minifridges; some have river views. A relaxed, fashionable apartment features a separate living room with a dining area. Room service is available 24/7.There's a restaurant with a terrace, and meeting rooms are available.
★★★★☆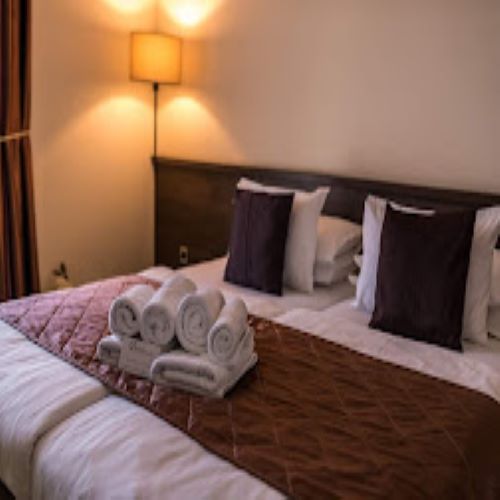 Dr. Irfana Ljubijankića 90, Bihać 77000, Bosnia & Herzegovina
Along the M5 road, this laid-back hotel is 1 km from medieval Fethija Mosque, 2 km from local history exhibits at the Muzej Prvog zasjedanja AVNOJ-a and 3 km from Bihać train station.Straightforward rooms offer flat-screens and desks.Parking is complimentary. There's also a polished restaurant/bar with a terrace. Other amenities include a spa and a fitness center, as well as meeting and event space.
From: $5243 From: €4992 From: £4285 From: RM22795 From: CAD6793 From: SGD7272 From: AUD7568 From: HKD41305
Alliance Cardmember: 30% Off for 2nd Pax